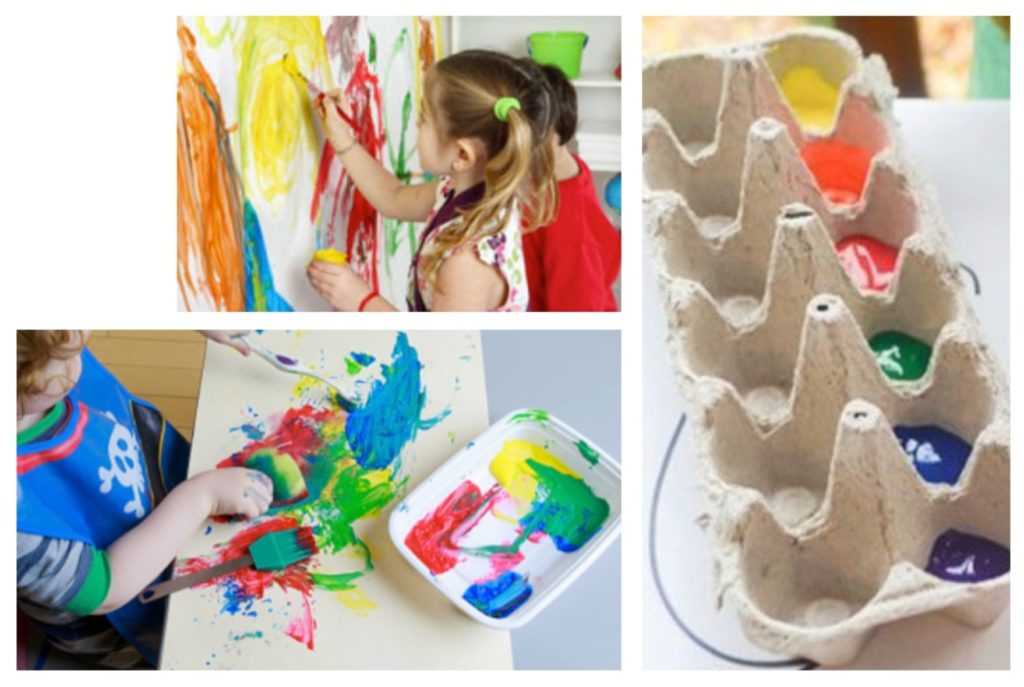 Preschoolers love to paint! In the Purple Room, we are fortunate to have lots of various types and sizes of paint brushes. Most mornings when you arrive, you can see some sort of painting or gluing activity set up at the big wall easel. It's exciting to explore this interest area of the classroom.
Albert Einstein maintained that creative imagination was "more important than knowledge," and alternatively, that "creativity is intelligence having fun." A child's imagination is liberated with a brush and colors! It is safe to say painting liberates children.
Painting not only fosters creativity for young children through different mediums, it enhances the world around them. Various combinations of brushes, paper type and size all teach children their internal ideas. They can then bring these ideas to life. Painting increases motor and visual skills. Sometimes we use egg cartons or similar recycled containers to hold the paint at a table or easel activity. You could try this at home. Sometimes using white paint with just one other color but in different shades is fun for the children to explore and mix up on their own. Preschoolers also like to talk about RAINBOWS! It's interesting when you can offer all the colors of the rainbow for children to choose from.
Picasso believed every child is born an artist. Have some fun and set your Purple Room Artists free!