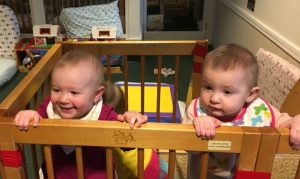 The bond between parents and infants is a precious one. Beginning with the home visit, infant teachers convey their understanding of the importance of developing trust and attachment to others. By respecting the needs of infants and establishing good communication with parents, we build a foundation for healthy infant development. Between the morning goodbye waves and the afternoon hello hugs, each baby is on an individual schedule that assures the best care possible. We know that infants need time and space to grow, and we want to provide experiences that nourish all areas of their growth. Teachers and babies share happy moments throughout the day, as we exchange smiles, gurgles, and giggles.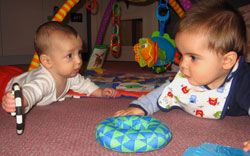 We believe that holding babies as we read a book, or give them their bottles, or simply cuddling with them, is important. We also provide places for infants to explore outside of our classroom. Crawling to our Red Room, going outside to our playground, or taking a walk on the beautiful Wellesley College campus – all happen during their time at WCCC. By presenting various age appropriate activities, we recognize that sensory exploration, learning through play, and the joy of discovery are keys for individual learning.
Through regular conversations with parents – both in person and on the phone – daily anecdotal notes, and parent conferences, we establish strong and long lasting relationship that benefit the children in our care.