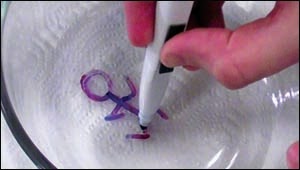 Materials Needed:
A glass plate, bowl or picture frame
Dry erase marker
Water
Directions:
Draw a simple picture on the glass; a stick figure is a good one to start with.
Slowly pour a little bit of water onto the plate or into the bowl
Swirl the water around to make the picture dance and move!
If you want to learn the science behind this activity, check out this link!
Activity by John Bradley, Floating Teacher
Photo Credit & Inspiration: www.sciencefun.org