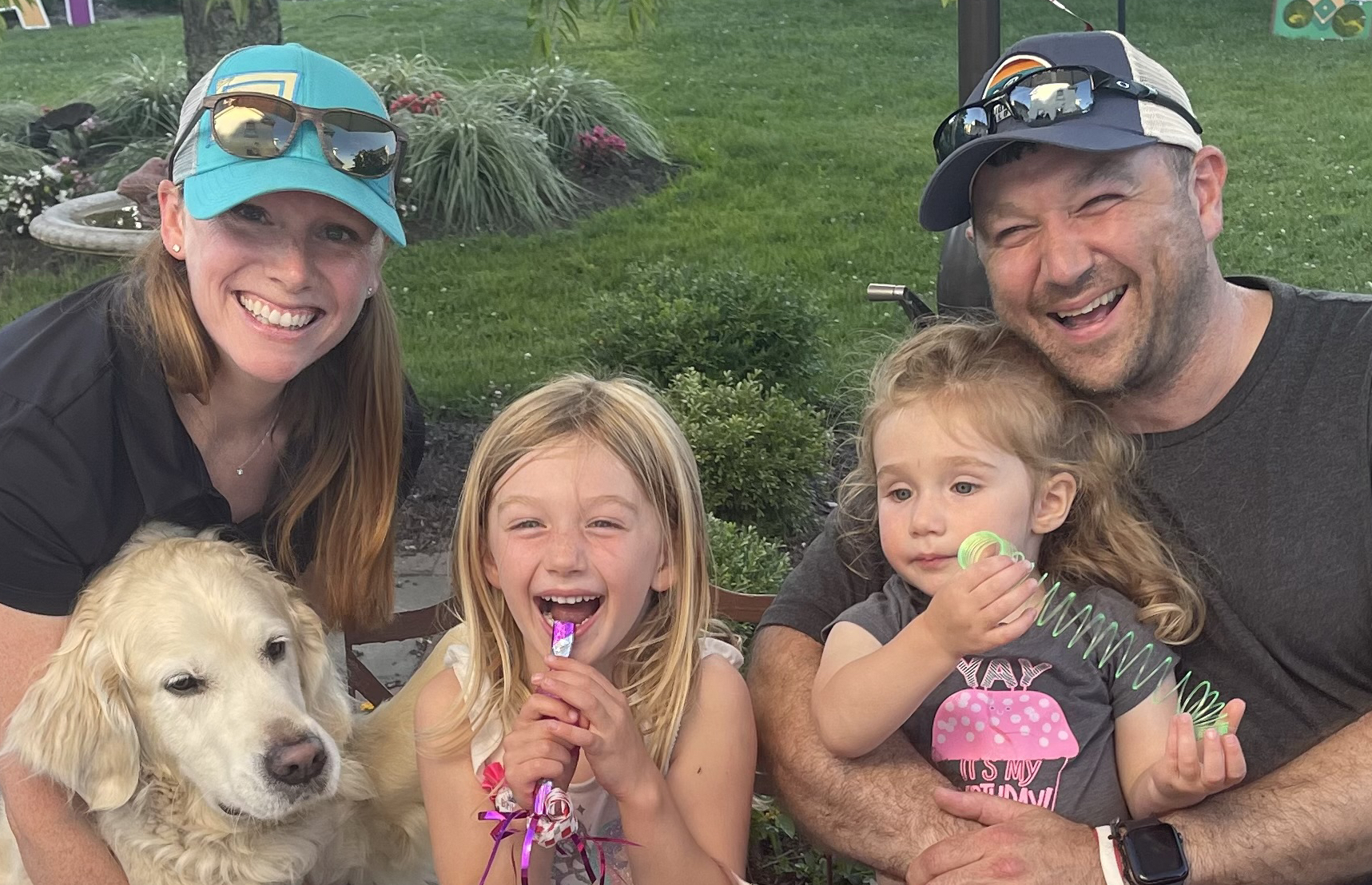 Get to know WCCC's 2023 Marathon Runner, Chris Harvey
We are very pleased to bring you a special issue of our newsletter introducing a member of our family, Chris Harvey, who will be running in the upcoming 127th Boston Marathon in support of WCCC. Let's learn more about Chris and how to support him!
Where are you from and what do you do?
I'm originally from northeast Pennsylvania. I went to Maris College in Princeton NJ and came to Boston in 2003. I've moved around a bit since then, before settling in Needham. I'm a software engineer at MathWorks in Natick.
Tell us about your family.
My wife Erin and I have two daughters – Ashley is 6. She was at WCCC just before pandemic, Lexi is 3 and a current student at WCCC.
The girls, like their mother, are athletic and enjoy all kinds of recreation and sports. In fact, they've both been learning to ski in the past few winters.
What's your connection to WCCC?
As an alumna of Wellesley College, Erin had friends who worked at WCCC, and her mentor was an early founding donor, so our family has known about the program for a long time, well before we became parents.
Now, having both of our girls through and in the WCCC system, we've been able to observe up close how much care goes into the service they provide every day.
Lexi (like Ashley before her) loves being there, visiting with the administrative staff and her previous classrooms… the care that the WCCC staff puts into their work is so apparent. In turn, the kids really care about one another. There is a peaceful, calm, welcoming environment where the kids are ready to learn whatever is available, every day.
We credit WCCC with Ashley's smooth transition from T-K to Kindergarten – she was confident, prepared, completely ready to go.
I'm thrilled to be able to give back to this program in even a small way. This has been by far the best childcare we've experienced.
Why are you running for WCCC?
The pieces all just fell into place this year. I've always wanted to try a marathon but didn't have a plan to do it until the WCCC email came out. Erin encouraged me to seize the opportunity. I was already looking for a firm goal to set for myself, get back into shape, work out regularly. Additionally, I've been a member of the WCCC board for a few years, so seeing how much goes into running a program like this, how tight the budgets are, how important fundraising is to the budget – it feels great knowing that this will help benefit the entire community.
How long have you been a runner?
In high school, I was on the track team, participating as a pole vaulter, hurtle jumper, and high jumper. Then, in 2008 I completed first 5K. In 2009, Erin and I participated in the Run to Home Base (a 9K race to/from Fenway Park), a tradition we've kept alive every year since. I've also run the BAA 10K – but the marathon will be my longest run.
What's your current pace per mile?
My current pace is 10.5-minute mile for short runs, 12 minutes for longer runs. It may be a slow & steady pace, but I'm getting better at maintaining it for longer periods, thanks to the Peloton marathon training program. I'm about halfway through the 18-week training program, with a few 9-mile runs and one 12-mile run under my belt now.
What's your goal for the BAA Marathon?
I'm aiming to stay under 12-minute miles, with a total finish time of about 5 hours.
How can readers support your run?
I would really appreciate any support – whether it's a running buddy or funds. You can donate on GivenGain.
Want to train with Chris?
If you're willing to go slow, I'd love for company on the long runs! Let me know!