Materials:
Acrylic Paint- Different Colors
Plain White Canvas or extra sturdy paper like cardstock
Roll of Painters Tape
Paint Brushes/Sponges
Paint Tray/ Paper Plate
Smocks/ Extra Casual Clothing
Instructions:
Cut the painters tape into strips that are long enough to cover 2 edges of the canvas, place them onto canvas one at a time using different angles.  Make sure they are completely flattened so no paint can get underneath the tape.
Choose a few different colors of paint and create your palette using the paper plate or paint tray.
Start painting! You can make each section a different color, repeating colors in sections that are not touching, or feel free to get creative if you have other ideas!
Once the paint has completely dried, remove the tape slowly and carefully and then your creation is complete!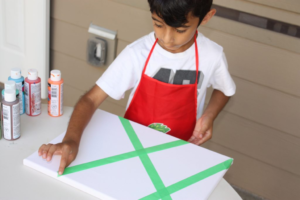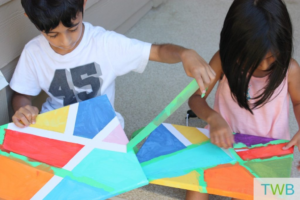 Activity by Amanda Cardinal, Upham Site
Photo Credit: www.stayathomemum.com