Make unique paint brushes using items from nature, yarn, household items and more!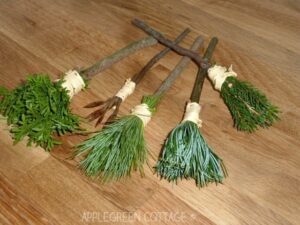 Materials:
Sticks or wooden dowels/skewers

Rubber bands

Leaves/grass

Toys with hair (dolls, horses)

Sponges

Qtips

Scrap fabric

Yarn

Paint

Paper
Instructions:
Nature Inspired Paint Brushes
To make a nature inspired paint brush take a walk outside and find a few straight sticks and plenty of leaves and grass. With the leaves and grass in a bunch, secure it at the end of your stick with a rubber band. Test out your new paint brush without paint first to see if it's tied tight enough!
Yarn Paint Brushes
With skewers and short pieces of yarn use the same technique to make a yarn paint brush. Ribbon and scrap can also be used for a totally different texture.
Doll or Toy Paint Brushes
If you make sure to give them a bath when you are done, toys with hair like dolls and horses can also be paint brushes. Try giving them a ponytail or four and see what your brush strokes look like. 
Q-Tip or Sponge Paint Brushes
Qtips and sponges are another easy paint brush replacement. Cut the sponges to make stamps and tie together multiple qtips for different effects or easy flower stamps.
Activity by Tiana Chu, Floating Teacher
Photo Credit & Inspiration: www.applegreencottage.com