Here's an alternative to regular plastic bubble wands that will make GIANT bubbles!
Just look at this picture of Rachel's daughter!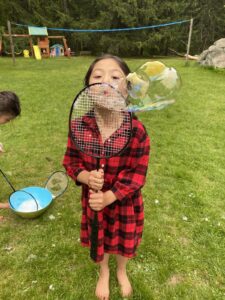 Materials Needed:
A tennis or badminton racket you don't mind getting bubble-y (a fly swatter works too)

A large tray, big bowl or bucket (big enough to fit your racquet or swatter in).

Trays work great for this since you can lay the racquet in it rather than making a giant bowl of liquid!

Dish soap & water to make your bubble liquid
How To:
Mix some dish soap and water in a big bowl or bucket. Use more soap than water, filling the bowl just enough to dip a tennis racket in.

Bring your bowl outside and dip your racket into the bubble mixture. The racket doesn't need to be completely submerged.
Have fun!

Blow bubbles through the racket.
Try swinging your racket fast and slow to make different size bubbles!
Pop and catch your bubbles with your racket.
Play your favorite dancing tune and dance in your bubbles.
Have fun making it rain bubbles!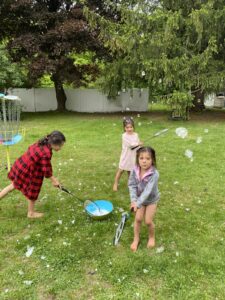 Here are all three of Rachel's kids having fun!
Activity by Rachel Jong, Hardy Site