Objective/ Goals:
The purpose of this activity is to introduce the different ways of how to make flowers and being creative. This is a great activity to show the use of pasta for flowers and coffee as dirt.
Supplies: 
Pasta Noodles (use what you have – any type of noodle will be fine!)
Glue
Scissors
Colored Markers
Colored Construction Paper
A small cup of water
Paintbrush
Colored Paint
Activity Plan: 
Start by painting the stems of your flowers. Each person can use a paintbrush or just go with the finger paint idea. Then paint the stems of the flower and set that paper aside to dry.
Second, we then grab some pasta noodles, place them on a separate piece of construction paper and start designing our pasta flowers. We are all artists in our own way. We paint them all the different colors. There are so many options to let their creativity shine.
Once your noodles are painted (or, if you'd like, you can use the original pasta look) they will need a few minutes to dry. You can then a draw a circle in the middle of the paper. You can color it in black with markers or whatever color of your choice.
Start gluing your noodles and placing them around the circle.
Lastly, you can add more details to your drawings, while your flower pasta is drying. It's fun, easy, and a great activity to do for all ages.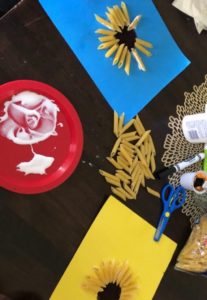 Activity by Neddra English, Hardy Site