Materials:
Colored paper (or you can color white paper using crayons, markers, or paint)

Scissors

Glue (we recommend glue sticks but any glue will work)
Instructions:
Use a dark sheet of paper for the background.

Cut out crazy shapes to create your self portrait. You may decide to draw shapes with pencil first or cut out your shapes freestyle.
Think about the shapes of certain facial features before you cut. The more abstract the better!
Lay your shapes on your paper to form your self portrait how you like!
You can experiment with frontal (from the front) and profile (from the side) perspectives.
Next glue your shapes on the paper. Have fun layering colored shapes on top of each other.
"Check out the new YOU!"
Below is an example by my friend Heather Wilson. She did her whole family 😊 !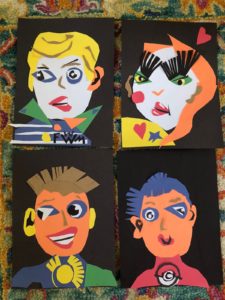 Activity by Rachel Jong, Hardy Site